Kilt Blog
The Kilt Blog is my mini journal keeping you up-to-date with Your-Kilt.com
It lets you know whenever any new pages appear on Your-Kilt, and whether there are new items of special interest, and keeps you up-to-date with all postings or news about Your-Kilt.com.
Please click on the orange RSS button to subscribe.
Mar 08, 2018
The Northumberland Kilt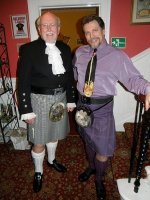 The Northumberland kilt is unique, it is thought to be the oldest tartan known and is said to date back to Roman times.