Irish Kilts
Irish kilts believe it or not, are rarely if ever seen being worn in Ireland on a day to day basis.
The origins of the kilt in Ireland are still being debated, but it is evident from Irish history that the kilt was adopted by Irish nationalists, around the turn of the twentieth century.
Many people today believe, that Irish kilt history goes back to the sixteenth century.
If that were true then they would predate the Scottish kilt, and that is certainly not the case.
This misconception would appear to be based on early carvings found throughout Ireland, depicting figures wearing what is known to be the Irish Lein-croich, a long tunic traditionally made from solid coloured cloth, often linen.
The most widely used colours for these tunics were saffron and green, with black also having being used.
Today one of the most popular of all the kilts in Ireland, is the saffron kilt.
Below you can see a photo of an Irish military pipe band wearing saffron kilts.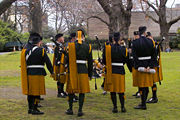 Irish Military Pipe Band


Kilts were first used by the Irish Regiments who served with the British army, and they were later adopted during the rise in Irish nationalism, as a symbol of their Celtic heritage.
Kilts from Ireland are of course also available in various tartans, although the variety is nowhere near that of Scottish tartans.
One of the most popular is the Irish National tartan, you can see a photo of it below.
In this instance you can see the kilt being worn in a casual manner, as the wearer enjoys some fast food.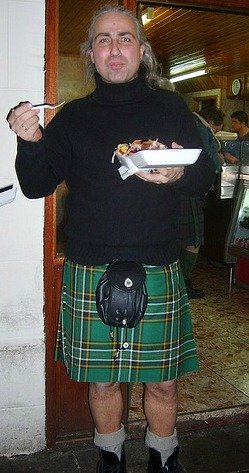 Irish National Tartan Photo Alex Cunningham

And unlike Scottish tartans which are mostly associated with clans, the majority of Irish ones are Irish County tartans.
This is a fairly modern development aimed mostly at the Irish-American market.
But as I said earlier, Ireland is known for its solid coloured kilts, and here we have a photo of the St Laurence O'Toole Dublin Pipe Band, wearing Solid green kilts.
They are photographed here taking part in the Scottish Pipe Band Championships, being held in Dumbarton, Scotland, May 2007.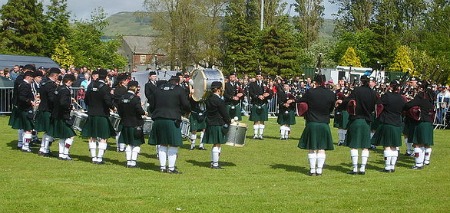 Green Kilts Photo Alex Cunningham

There are more Irish kilts being worn in America, than anywhere else in the world.
So for all my American visitors who are interested in more information on such kilts, I highly recommend this Scottish/Irish Merchant who offers a full range of these kilts.
They were first produced in 1996 by the House of Edgar, a Scottish company based in Perth, there is also the"Irish County Crest Collection" which is based on the colours taken from various Irish County Crests.
Given that these kilts and tartans are not produced in Ireland, rather in Scotland, brings into question whether or not they can truly be called Irish.
But Irish or not these kilts are becoming very popular, mostly in North America, as those of Irish descent connect to their heritage.