Ladies Evening Kilt
It could and indeed would be argued by traditionalists, that the ladies evening kilt does not exist.
The reason for this argument is simple as far as the traditionalists are concerned, ladies do not have the right to wear the kilt.
They firmly believe that the kilt is only to be worn by men, and that ladies may only wear skirts.
What is the difference? I hear you ask, well quite a lot actually.
A kilt is a highly tailored garment, which when worn by ladies can be rather unflattering.
A ladies figure is naturally quite different to that of a man, and the traditional kilt making skills do not lend themselves to accommodate the female form.
That said, I personally am no traditionalist as far as this particular issue is concerned, and I find Ladies in evening kilts look as stunning as their partners in full Highland Dress. But should the term Ladies kilt be more accurately described as Ladies skirt? for that is in fact what it is.
If you look up the word "kilt" in your dictionary, you will find that it refers to a male garment, worn by Scottish Highlanders, and that similar skirts are worn by women and children.
Evening wear for ladies would normally consist of a full length skirt in the same tartan as her husband or partner's kilt.
They are normally of a lighter worsted wool, as this is softer and the pleats hang better. The skirt is normally worn with a white long sleeved blouse, often accompanied by a velvet waistcoat or jacket in a contrasting colour.
A matching tartan sash can also be worn to complete the outfit, worn over the left shoulder with a clan crest badge. As usual for formal wear, black shoes (not too high) and the wearing of a kilt pin is also, in my opinion quite acceptable.
The photo below is an example of how this outfit can look.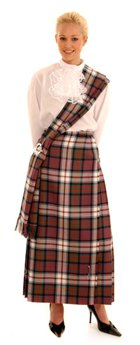 Ladies Evening Skirt


The ladies hostess skirt, as it is also known, can also be worn to less formal occasions as is shown below, this time with a matching shawl.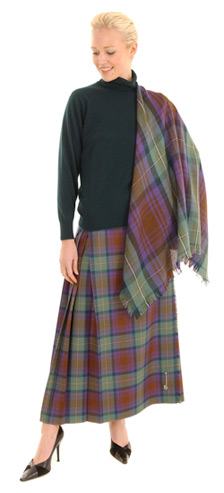 Ladies Hostess Skirt


I would like to repeat that there are no hard and fast rules governing the wearing of formal tartan wear for ladies. There are of course guidelines (most of which are written by the traditionalists I touched upon earlier).
But as with everything else in life I firmly believe that you as an individual, have the absolute right to decide for yourself what is or is not appropriate when it comes to formal wear.
And I hope this page has thrown some light on the subject of the ladies evening kilt, and inspired you to find the perfect outfit compliment your man's kilt.
If I can be of any further assistance, or if you have any questions on this or any other aspect of the kilt, please do not hesitate to contact me using the "Contact Us" page.
Return from Ladies Evening Kilt to Kilts Page

Return from Ladies Evening Kilt to Your Kilt Home Page