Kilt Jacket
Once you have bought your kilt, you will more than likely want a kilt jacket to go with it.
But which one?
As there are several choices, you first have to decide on which occasions you will most likely be wearing your kilt.
Evening/Formal Wear
For evening or formal wear, the Prince Charlie is the jacket that most people choose to accessorise their kilt.
This jacket is unequaled in terms of elegance, and apart from the kilt itself it will be the second most expensive item in your Highland dress outfit.
So why is this jacket so popular? well simply put, it is stylish, comfortable and it is tailored to accentuate the kilt, which when worn together gives you a formal dress that is suitable for any occasion you wish to attend.
This particular kilt jacket is seen most often at weddings, Dinner Dances, film premiers, Burns Suppers, in fact any occasion where you want to look your absolute best.
Below you can see a photo of two gentlemen deep in conversation, the one on the right is wearing a Prince Charlie jacket, notice how it is cut to show off the kilt.
Although they are clearly about to attend a formal gathering, the gentleman on the left has chosen to wear a less formal Argyle kilt jacket.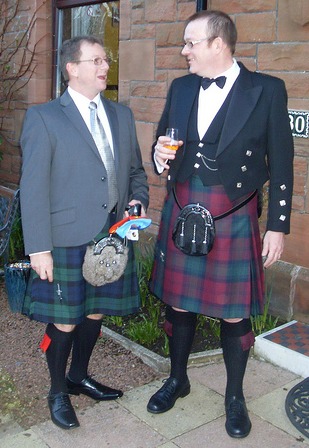 Prince Charlie Jacket Photo Alex Cunningham

An alternative to the Prince Charlie jacket is the Argyle jacket in black wool, although in my opinion not as elegant as the Prince Charlie, it is perhaps more versatile.
What I mean by that is that this jacket when worn with a waistcoat (vest) and black bow tie, is perfectly acceptable as evening wear.
You can see an example of how versatile the Argyle jacket is in the photo below, here you see it being worn as day wear, but with the appropriate shirt and tie, it is also considered evening wear.
Incidentally the gentleman wearing the tartan trousers, is the Provost of Perth and Kinross.
He is also wearing an Argyle jacket, which is made from Harris tweed, and looks totally different to the other one in the photo, which shows how versatile this type of kilt jacket is.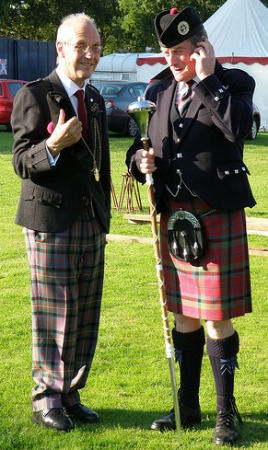 Two very Different Argyle Jackets Photo Alex Cunningham

Day Wear
When choosing a jacket for day wear, you can choose between what is considered semi-formal and casual. Once again the Argyle jacket can be worn for both.
Depending on the occasion you can decide to wear a dark coloured Argyle with waistcoat, and this is considered semi-formal.
Once again the following photo shows the extremely versatile Argyle jacket being worn as day wear, again in tweed.
The gentleman is Norman Scott, the Chieftain o'The Games at Pebbles Highland Games 2009, and he is wearing the Isle of Skye tartan.


Day Wear Argyle Jacket Photo Alex Cunningham

Please bear in mind when wearing a jacket with a waistcoat, the kilt belt is not required, in fact the belt with it's rather large buckle would be hidden under the waistcoat, and will spoil the way the waistcoat lies.
You can also wear the Argyle jacket without a waistcoat, and it is available in a variety of colours, which would then be considered as more casual wear.
It is also very popular in Harris Tweed, which means it is very hard wearing, and apart from the shorter cut to show of the kilt it is not unlike a sports jacket.
You can also choose from different finishes to the cuffs, which can then also help determine whether the jacket is more suited to Semi-formal or casual wear.
As with almost all of the kilt's accessories the best advice I can give you, is to talk to your kilt maker before deciding on your kilt jacket.
Return from Kilt Jacket to Kilt Accessories Page

Return from Kilt Jacket to Your Kilt Home Page