Black Kilts
Black kilts are being marketed by many kilt makers as something new and contemporary.
Where in fact nothing could be further from the truth, as they have been around for at least a couple of hundred years.
Queen Victoria, who is credited with having played a big part in reviving the kilt's popularity, had a strong association with this particular kilt.
The association I refer to is that her long time servant John Brown, was often dressed in such a kilt with matching waistcoat (vest) and jacket.
She was so fond of him (and his distinctive Highland Dress) that after his death, she had a portrait painted of him wearing that outfit.
He was clearly a Scotsman who liked to stand out from the crowd, and in that particular colour of kilt I'm sure he did just that.
Traditionally this colour kilt is also associated with Cornwall.

Just like the better known tartan kilts, for which Scotland is world famous, solid coloured kilts although no where near as popular, date back almost as far.
They are available like most kilts, in a range of weights and length of material used in their construction.
The lightweight version for example, which is often marketed as a casual kilt is made from four yards of eleven ounce worsted wool.
The more expensive traditional eight yard version is generally made from sixteen ounce worsted wool.
You can see an example in the photo below of such a kilt being worn with an Argyle jacket, giving the kilt a semi-formal look.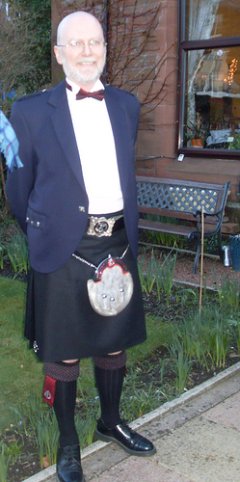 Black Kilt Photo Alex Cunningham

These kilts can of course also be accessorized with a black Prince Charlie Jacket, to produce evening wear that is guaranteed to get you noticed at any function you care to attend.
I am referring here to kilts made by traditional kilt makers using traditional kilt making skills, there are other alternatives on the market which are made from man made materials to a much lower standard.
So if you are looking for something just that little bit different, then perhaps a kilt outfit such as this is what you need, and most good quality kilt makers should be able to supply it for you.
Return from Black kilts to Kilts Page

Return from Black Kilts to Your Kilt Home Page