Tartan Wedding Dress
If you are planning your wedding, then a tartan wedding dress will add beautifully to a Scottish or Irish wedding theme.
Many brides nowadays are turning away from traditional white wedding dresses.
Those of you with Celtic heritage, or indeed those of you who simply want to incorporate a Scottish or Irish theme into your wedding, can now choose to have your wedding dress made from tartan.
Nowadays tartan is woven in silk as well as wool, and this of course allows the dress maker to produce the most stunning wedding dress you can imagine.
Tartan wedding dresses are now being produced by some of the industries top designers.
You can choose to have yours made to measure, or they are available off the peg.
The cost of a tartan dress for the big day, will range from around five hundred pounds sterling, all the way up to a few thousand pounds, if you choose to use one of the top designers as your dress maker.
Unlike a traditional white wedding dress, which you wear on your wedding day, and then you normally never wear again. you can wear your tartan wedding dress as a ball gown or evening dress to formal functions, after your wedding.
This versatility naturally makes such a dress, far greater value for money.
So which tartan do you choose for your dress?
If you consider that there are over five thousand different tartans available, then your choice is huge, although not all of them will be available in silk.
But most brides narrow it down very easily, and consider which tartan their fiancee will be wearing.
Will his kilt, if he is wearing one, be made from his family/clan tartan?
Your family themselves may have their own tartan, and if so you may well choose to have your dress made from your family tartan.
Below you can see an example of a wedding dress, the tartan is wool, and the underskirt is made from silk.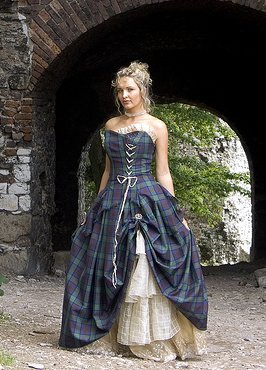 A Beautiful Wedding Dress

Many brides choose to have several bridesmaids, usually all of which are dressed identically, so in keeping with the Scottish/Irish theme you can also incorporate tartan into their dresses.
This is often done by using tartan in the pleats of the dress, for example the tartan can match your dress, or if you prefer match the tartan of your fiancee's kilt.
Yet another option is to have the bridesmaids wearing tartan sashes, or a tartan bodice to their dresses.
And why stop there, the mother of the bride can also be dressed in an outfit with tartan subtly used to enhance the Celtic theme.
As I touched on earlier, with such a theme the groom and his groomsmen would also be dressed in full Highland Dress.

But it would also be spectacular if the bride were to be led down the aisle, by her father resplendent in his kilt outfit.
All of this will make for a truly memorable wedding day, and don't forget you will be able to wear your tartan dress to other special occasions.
But none of them of course will ever be as special as your wedding day.
If you would like any further information on tartan wedding dresses, or indeed anything to do with kilts or tartan in general, then please drop me a line using the contact us page.
I am always delighted to hear from my visitors.

Return from Tartan Wedding Dress to Celtic weddings

Return from Tartan Wedding Dress to Your Kilt Home Page