Shortage of Kilts in Royal Scottish Regiment
It has been reported in the press as far back as 2006 that there is a shortage of kilts in Scotland's "new super regiment" The Royal Regiment of Scotland.
It is claimed that the regiment's five thousand soldiers have only three hundred and twenty kilts between them (if this is true then every fifteen soldiers are sharing one kilt).
The shortfall of kilts, which are an essential part of the ceremonial uniform, allegedly came about when the centuries old Scottish regiments were merged in August 2006.
New kilts are needed for all Scottish soldiers now serving with The Royal Regiment of Scotland as the new regiment requires its own tartan

Below you can see a photo of a soldier on guard duty on the esplanade, outside the entrance to Edinburgh Castle, wearing the Regiment's new tartan. The regiment post such guards during the week the Queen is in residence in the Palace of Hollyrood House.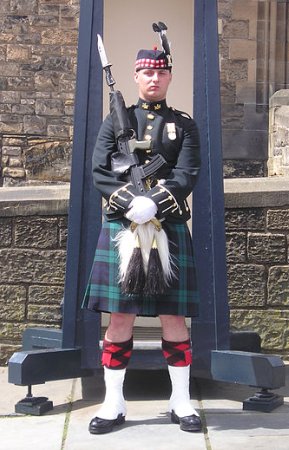 Royal Regiment Soldier

Kilts have not been worn in battle since the first world war, but to any Scottish soldier not having his own kilt as part of his ceremonial uniform must be, I would imagine intolerable.
The supply contract was put out to tender early 2006, when a spokeswoman for the MOD (Ministry of Defense) was quoted as saying "There are no problems whatsoever. We have plenty of kilts for ceremonial duties, and the Scottish battalions are happy with the situation".
It is my understanding that as late as December 2006 no kilt makers had by then been awarded the contract, said to be worth one million pounds, one point nine million US dollars.
It is planned that two battalions be fitted out by May 2007, with the whole unit being kitted out by early 2008.
As the government has seen fit to disband so many Scottish Regiments,
which over the centuries have so proudly served their country, one can only imagine this has been done as a cost saving exercise.
However the lack of kilts within the newly formed Regiment is a further insult to the proud tradition of all the former Scottish Regiments, both Highland and Lowland and it is hoped this situation will not be tolerated for much longer.
Return from Shortage of Kilts to Black Watch Page

Return from Shortage of Kilts to Your Kilt Home Page