Robert Burns Day
by Colin Langeveld
(Liverpool)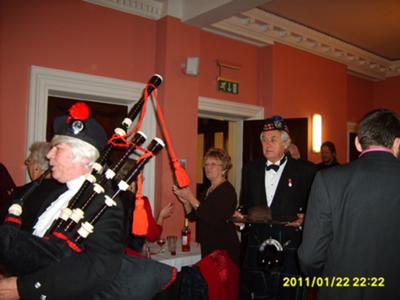 Colin and the Piper on Robert Burns Day
Robert Burns Day is celebrated across the world, as a tribute to Scotland's most famous poet.

Colin, a regular contributor to this web site, was kind enough to send me the following account of their first Burns Night.

First Burns Night

As a member of the Lowlands Community Association, (The Beatles once appeared there in 1962) I was asked to find a piper for our first Burns Night.

The first one I approached wanted £100 just to pipe in the haggis! much to expensive for us.

Fortunately a lady, Sylvia, from the Clan Wallace Pipes and Drums kindly offered her services for half the price.

My dirk was seconded for haggis duty and I was given the honour of bringing in the beast on a tray.

Unfortunately, Sylvia and I were only two in Highland Dress.

Thank you Colin for celebrating Robert Burns Day, and for sharing your account of the association's
first Burns Night with the other visitors to this web site.