Men Wearing Kilts
Men wearing kilts are becoming a fairly common sight in many countries around the world, as more and more of you discover how versatile and practical kilts are.
A few years ago kilts were mostly worn to formal occasions, such as weddings , Burns Suppers or formal dinners.
Nowadays you can see kilts being worn to almost every occasion imaginable.
Just a few of them include, hiking, going to the pub, the old favorite, attending a Highland Games, and more and more men are choosing to wear their kilts to work.
A good example of this can be seen in the photo below.
It shows a police officer serving with the New Hampshire police department, carrying out his duties riding a Segway.
His kilt is the New Hampshire State tartan.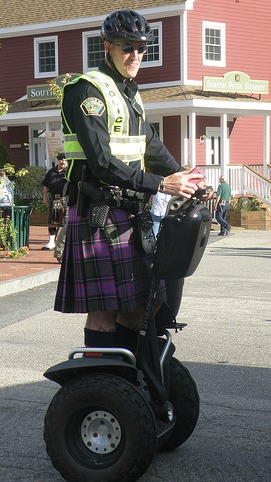 Police Officer in a Kilt Photo Alex Cunningham

The world of entertainment also often sees men wearing kilts.
Some very famous people indeed have been snapped while wearing one.
These include Sir Sean Connery, Robbie Williams, Axel Rose from Guns and Roses, Rod Stewart, Richard Branson owner of Virgin Airlines, actor Samuel L. Jackson, and Ewen McGregor to name just a few.
Below you can see a photo taken at Lockerbie town hall.
The band on stage are called Scocha, they are carving out quite a following for themselves in Scotland.
Playing traditional Scottish music with a Rock & Roll attitude, is how they describe themselves, and as you can see they perform wearing kilts.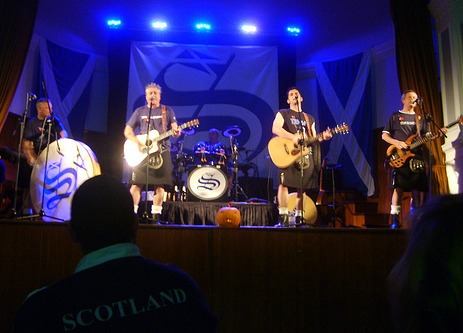 On Stage in Kilts Photo Alex Cunningham

The next photo shows a group of fans about to attend the Scocha gig at Lockerbie town hall.
Note the four different tartans on show in this photo, and the casual manner in which the kilts are being worn.
Also quite an array of sporrans to be seen.
The second from the right is a day sporran, while the two on the left of the photo are semi-dress sporrans, and I am fairly sure that the one on the far right is a dress sporran, but I can't be certain from the photo.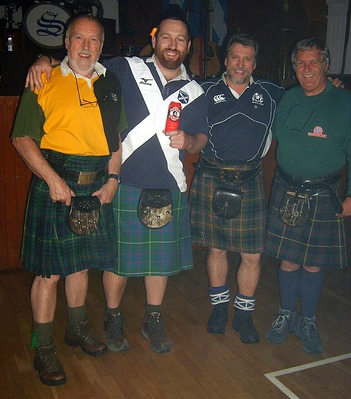 Casual Kilts Photo Alex Cunningham

And of course men wearing kilts in America are now so common that they no longer cause onlookers to stare in disbelief, as was once the case.
There are actually more kilts produced and worn in America than there are in Scotland.
Below is yet another example of how proudly Americans wear their kilts.
The photo shows a Gentleman from Pennsylvania attending the Clan Scott gathering.
Notice that although he isn't wearing a Sgian Dubh in his kilt hose, he is wearing a dirk on his right hip.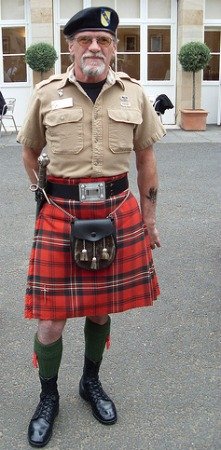 An American in a Kilt Photo Alex Cunningham

Just to balance the page and show you some kilts being worn formally, the next photo was taken at my brother's wedding, which took place in the South of England.
Although my brother Raymond and I are both born and bred in the Highlands of Scotland, as is my brother-in-law Martin, on the right of the photo, we now all live in different countries.
All three of us as you can see are wearing full Highland Dress, and I might add it was wonderful to have a Celtic theme at the wedding.


So as you see men wearing kilts are definitely on the increase, and this is understandable, as the kilt is without doubt the most comfortable, versatile, elegant garments imaginable.
If you don't believe me, then I urge you to try one for yourself.
You will be amazed how good you feel wearing a kilt, and oh, did I mention that women find men in kilts very attractive.
If you have any questions about kilt wearing, or indeed anything to do with Highland Dress in general, drop me a line using the contact us page, and I will be delighted to answer them for you.

Return from Men Wearing Kilts to Men in Kilts

Return From Men Wearing kilts to Your Kilt Home Page