Leather Kilts
Leather kilts are fast becoming a much sought after garment, for those who want something a bit different from a traditional tartan kilt.
They are often fashioned with pockets, so no real need for a sporran. Unlike traditional kilts which sit high on the wearers waist, these kilts are designed to sit on the hips.
And the amount of material used, is less than that of a traditional authentic Scottish kilt. How much less?
Well it depends on the kilt maker, most appear to use approximately five yards of leather in their kilts.
Although I have found during my research two companies, one in Scotland and one in the United States, who use six yards of quality leather.
Which as the American company pointed out, works out at one and a half cow hides per kilt.
The best finish to the bottom of the kilt would seem to be without a hem, as leather does not fray, and with a simple cut edge the pleats hang better.
This is in keeping with a traditional kilt, which is always cut on the selvage.
The quality of the kilt naturally depends on the leather being used, and I would strongly advise against buying a kilt for less than the price of a good quality pair of shoes.
And I'm not joking when I say that, I have seen kilts while researching this page, being offered for sale for as little as forty five pounds, my kilt shoes alone cost more than that.
At the top end of the market, I have also found one company (yes the Scottish one) who sell their kilt for around one thousand two hundred and fifty pounds, that is just over two thousand dollars American.
Now that's an expensive kilt, but be assured it is, just like a traditional eight yards worsted wool kilt, a quality garment which you would expect to last a very long time indeed.
And I would have to say, that a good quality black leather kilt, does look quite stunning as a casual kilt.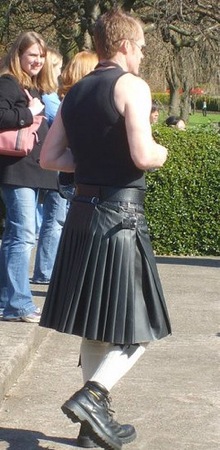 Leather kilt Photo Alex Cunningham


As you can see from the admiring glances from the girls, this young man's choice of kilt is a big hit.
But I'm not sure that it would be appropriate in a more formal setting.
Not to be outdone, the ladies are also wearing such kilts these days, and as you can see from the photo below in a casual setting they look good.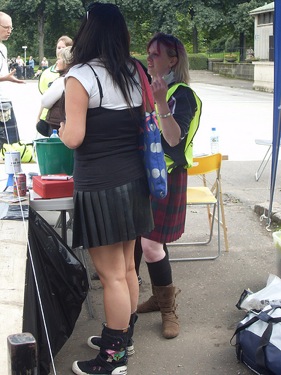 Ladies Leather Kilt Photo Alex Cunningham


When it comes to the colour of the leather you do have a little choice, the colours available include bronze, eggplant, burgundy, saffron, brown, British tan, and by far the most popular, black.
So I hope this page has given you some insight, to at least consider the alternatives available these days, to the traditional and well loved Scottish kilt. If you have any questions regarding this, or any other page of the web site, please drop me a line using the Contact Us page, I am always delighted to hear from my visitors.

Return from Leather Kilts to Kilts Page

Return from Leather Kilts to Your Kilt Home Page