Kilts for Graduation
Is it appropriate to wear kilts for graduation?
You may think that a strange question, as I did, until I started to research the topic and found that at least one University in England had indeed banned their Scottish students from wearing their kilts to their graduation ceremony.
None other than Cambridge University, one of Britain's leading and most famous Universities have seen fit to enforce a total ban on the wearing of kilts since 2005.
A spokesman for the University is quoted as saying "regulations had always stressed that traditional dress, trousers and ties for men, dresses or suits for women, should be worn, but they had never really been enforced until now".
The decision it would seem to ban all national dress and army uniforms, was taken because more and more students were choosing to attend these ceremonies dressed in their kilts (quite understandable I would have thought).
Below you can see a photo of a student attending his graduation ceremony dressed in his kilt.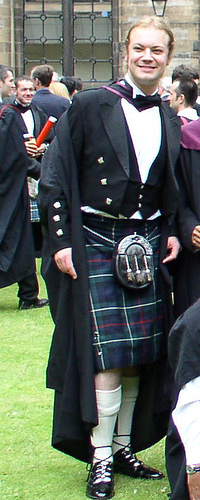 Graduating in full Highland Dress photo by furbyx4


The kilt is an outfit that brings a sense of occasion to any ceremony, and as such it is of no surprise that more and more students (not only Scottish and Irish) but students graduating across the world choose to mark such an important occasion by donning the kilt.
Unlike Cambridge, many Universities throughout the world positively encourage their students to foster their Celtic heritage.
This can be seen in many states in America, also Canada, Australia, New Zealand, South Africa, Hong Kong and the United Kingdom.
After all why wouldn't any proud young man (and often today not so young men) not want to present themselves in all their finery, on one of the proudest and most important days of their lives so far.
So is the kilt suitable attire for a graduation ceremony? well that question can only be answered by the individual student.
I can only say from my own personal point of view, that I could not think of a more appropriate outfit for such an occasion, than a kilt and all its accessories.
After all that is a day you will want to remember for the rest of your life, and to be dressed in full Highland Dress will make that day all the more memorable.
If you have any comments or views on this, or any other subject to do with the kilt, I would love to hear from you. Please feel free to contact me using the "Contact Us" page.
Return from Kilts for Graduation to Kilts Page

Return from Kilts for Graduation to Your Kilt Home Page