First Timer
by Adam
(Johnson City New York USA.)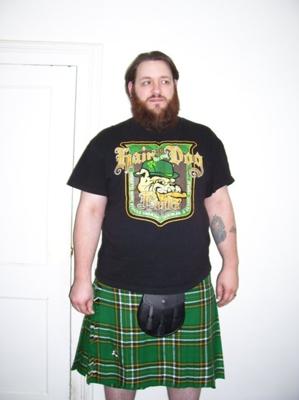 A quick snapshot of me in my Ireland National tartan kilt
I'm an Irish American and for as long as I can remember, I have always wanted a kilt.

I wear my Irish shirts and hats and what not for ST. Patric's day, but I wanted to show my Celtic pride in a stronger way.

So this past November I finally got a kilt in the Ireland national tartan.

When I first put it on I was thinking that it was a bit scary to wear in public, because here in the USA its still one of those things that gets you stared at funny (guys call them skirts here).

But then i heard that a local Irish pub has a kilt night every 2nd Saturday.

so I thought that would be a perfect kilt initiation for me to be around others in kilts .

I was nervous the whole way there, and I walked in the door and felt like a deer in the headlights for the first 10 minutes.

Then I saw the 6 guys in kilts, and one of them was eye balling me, he walked over and invited me over to the group of kilted guys.

He said something I'll never forget, he said "you're wearing a kilt you are one of us now and you will love wearing a kilt", then something clicked in my head and I was not uncomfortable any more and enjoyed the whole night.

But after that night I found myself wanting to wear a kilt more often.

There is only one of my family clans that has a tartan (Murphy), but there are all the family county and district tartans that I want to get kilts in.

I designed tartans for my Irish families that don't have tartans, and now I want to make kilts.

Kilts ended up spreading like a wild fire for me and I'm loving it.