Wearing the Kilt
by Bill Parker
(Somerset)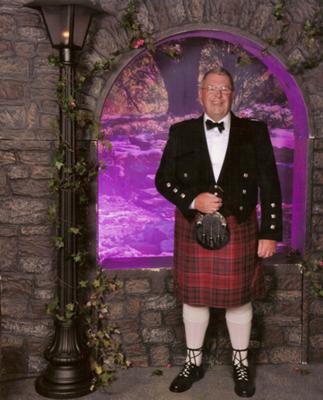 Wearing the kilt is something I try to encourage throughout the web site, and here is one visitor's account of how he came to own a kilt outfit.

A Long Journey

My name is Bill Parker, and this is the story of my journey to the kilt. It is a journey that has taken 66 years.

I was born in 1944 in Methil, Fife, to a Scottish Mother and English Father, and grew up there, before leaving twenty years later when I joined the Army, in The Royal Corps of Signals.

During the time I was growing up, a kilt was a rare sight, the only time we might have seen a "Kiltie" was a soldier home on leave, or on Remembrance Parades. I don't think Scotland was as nationalistic then as it is now.

During my early years in the Army, I had no need for, nor could I have afforded a kilt, and when I reached Senior NCO rank we had our mess dress for formal wear.

On leaving the Army in 1990, I settled in Somerset, and was too busy trying to earn a living in Civvie Street, to ever attend any events requiring formal wear.

So, it was not until after retiring, and getting fed up with airports for holidays abroad, that in 2010, we decided to take a cruise.

During the cruise there were four formal nights where gentlemen were expected to wear dinner jackets/tuxedos etc, but a smart suit and tie were acceptable.

I decided that the suit and tie would do for me. But once on the ship I felt out of place as most of the other passengers were dressed formally, in dinner jackets or tuxedos, but there was one passenger in a Prince Charlie outfit. He stood out from the crowd and looked really great.

I made a decision to get formal wear for my next cruise, but did not want to be like the rest of the penguins so decided it would be National Dress.

But before that, I had to decide on a tartan to wear. As you know, my name is not Scottish, as my Dad was English. I researched Parker on the Tartan sites but could find no affiliations to any Clans or Septs, although I did find an American Parker Tartan, but did not feel that was for me.

I researched back on my Mum's side, which was Hogg. I did find a Coat of Arms, but no tartan.

So what could I do? Growing up in Fife, a recruiting area for The Black Watch, I could claim some affiliation and justification for their Tartan.

Then I remembered that The Royal Signals Regimental Band had a Pipe and Drums section, so found out what Tartan they wore. It was Modern Grant, and, I believe that Grant Hunting Tartan is the identical to the Black Watch, so I decided that Modern Grant would work for me, and at a later date, perhaps a Black Watch kilt for other occasions.

So, on the 21st December 2010, my son and I got in the car and drove from Somerset to Edinburgh, to get measured up for my outfit.

This was during the really cold spell, and going over Shap the outside temperature was reading minus 15o, but the windscreen washer fluid, which was supposed to stay liquid down to minus 20o, froze solid.

Anyway, we got there and taking advice from this site and others, I had arranged to go to a reputable outfitter, Hector Russell in Prince's Street, to get myself kitted out.

In there, a young man named Simon, ex Scots Guards, looked after me and measured me up for the full outfit. Very helpful, and if you ever go in there I would recommend him.

I collected everything at the time, except the kilt, which was made to measure, and would take about 7/8 weeks to arrive. We then travelled back down to Somerset on Xmas Eve.

The kilt arrived at the end of March, I tried it on and it fitted perfectly, so almost ready for the next cruise in May 2011 I had to get a couple of dress shirts, and spare hose.

Also after spending a deal of money, I did not feel a pre tied bow tie was appropriate, so had to learn how to tie one, that was a steep learning curve.

Anyway all preparations were now complete, and so on to the cruise.

When the first formal night came round, I must admit to being a wee bit apprehensive about my first outing, but once I got out there everything was fine.

I was immediately aware of being noticed, and as David says, it certainly appears to make you more attractive to women.

I also had a few whiskies bought for me throughout the cruise.

More to the point, I did feel good in it, and it made me stand tall. Definitely a feel good factor.

Although I must admit, I sometimes think that people do not see the person, only the kilt. One lady wanted a photograph with me, which I was happy to do, but the next day, when I met her in the lift, she didn't recognize me.

Well that is my kilt story.

Looking back, I wish I had done it sooner, but as I say, I never found any need for formal wear until I started cruising.

Now I will be looking for opportunities to wear it again, Burns Nights, St Andrews Day and Hogmanay come to mind.

Thank you Bill for your excellent contribution, and I trust you will continue wearing the kilt at every opportunity.