What are Contemporary American Kilts?
Now you are about to look at an adaptation of the Scottish/Irish kilt, namely contemporary American Kilts.
What are they? you may well be asking, I know I was until I began the research. I wasn't sure they existed, but boy was I wrong?
There are at least two companies in America that manufacture kilts that are fashioned or perhaps loosely based would be a better description, on the traditional Scottish/Irish kilt.
If you would like to visit the web site whose kilts are featured on this page, you can do so by submitting the form below




Now thankfully I am not a traditionalist (although I love the tradition and history surrounding the authentic Scottish kilt) If I were I probably would not have written this page.
But I feel that a comprehensive guide to the kilt (which this web-site is) would not be serving its readership properly without including such information within its pages.
There are as you no doubt know, many many retailers of Scottish and Irish kilts in America, but what I am about to discuss is quite different and I might add innovative, for example some of these kilts have pockets (well that cuts out the need for a sporran) reducing the overall cost of the outfit.
But lets be clear about these Kilts, as far as I can establish they are designed to be casual garments, rather than the extremely elegant full Highland Dress.
That said I have seen photos of these kilts being teamed up with a tuxedo for formal wear, so they are versatile.
Well just how do they compare with a traditional Scottish/Irish kilt? to answer that question you really do have to compare apples with apples.
And in my opinion you can't really do that in this instance.
Firstly a medium weight Scottish kilt is 13 oz - 16 oz twill woven worsted wool, and uses eight yards of material. It is a made to measure garment, hand made by kilt makers who use skills which have been handed down from one generation to the next for over three hundred years.
These American kilts are made from 8.5 oz cotton-poly twill, I have been unable to ascertain the amount of material which goes into the making of these kilts.
The same manufacturer also offers a leather kilt, and as far as I know that is an item unique to them.
Their kilts also feature two deep free-hanging cargo pockets as an integral part of the garments design, this of course is unheard of with a traditional kilt.
The second manufacturer (who was kind enough to supply the following photos) offers a range of kilts, featuring a detachable sporran of matching material, thus removing the need for a separate one.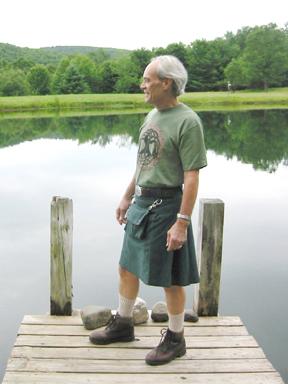 Contemporary American Kilt being modeled by a pond
All these kilts require only two measurements before their manufacture, the circumference of your waist and the length from your waist to your knee, its that simple.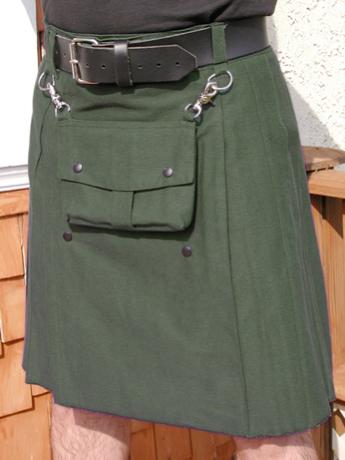 Close up of the contemporary American Kilt
Now these kilts clearly fill a gap in the market, and are very practical for many purposes, and to be honest I don't think they are trying to compete with traditional kilts.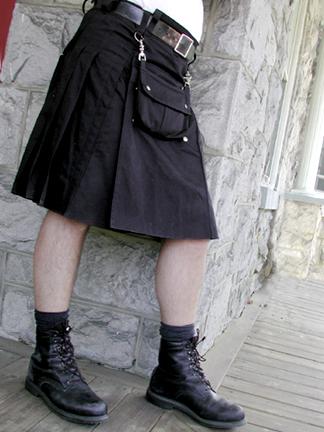 Black Version of the contemporary American Kilt


And that is probably just as well because the traditional authentic Scottish/Irish kilt stands in a class of its own, and nothing else can and I doubt ever will compare or indeed compete for its place on the world stage.
If you would like to visit the web site whose kilts are featured on this page, you can do so by submitting the form below


Return from Contemporary American Kilts to Kilts

Return from Contemporary American Kilts to Your Kilt Home Page