Chieftain Waistcoat
The chieftain waistcoat is yet one more garment which when worn with a
Jacobite shirt,
gives your kilt a very striking casual look.
It comes in a fairly wide choice of styles, and is available in both leather, or if you prefer wool.
The wool versions come in a wide choice of colours, which allows you to match or indeed choose a colour to contrast with your kilt. The black leather version is by far my favourite of all, and also happens to be the most expensive (I always did have expensive taste, at least according to my wife).
A good quality waistcoat is styled in such a way as to give an historic look, it has sculpted flaps both at the side and at the back, with deep cut rounded shoulders.
The photo below shows just how stylish this casual look is, when worn with your kilt.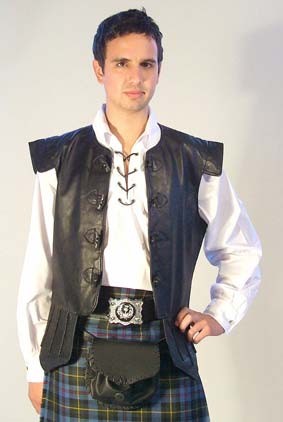 Photo kind permission of Scotweb Network


With a satin lining for a luxurious finish next to your shirt, and leather loops for fastening to the toggles at the front.
These waistcoats are generously cut, and come in a range of sizes to fit most people.
They are a particular favourite with people attending Highland Games, and as you can see from the next photo, they do look very smart/casual, I particularly like the combination with the Northumberland kilt.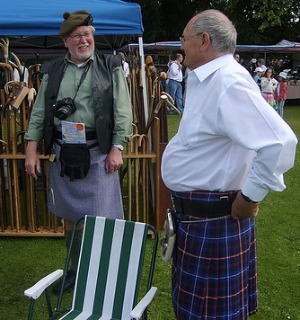 Chieftain Waistcoat Photo Alex Cunningham

The woolen version of this waistcoat is also very popular, but as I said, I prefer the leather ones, but of course as with everything to do with kilts and their accessories, its a personal choice.
One big advantage as I said earlier, is that the colour choice with the woolen version is large.
Below you can see a photo, also taken at a Highland games, showing a woolen waistcoat being worn.
You can see how it contrasts with the colours of the kilt.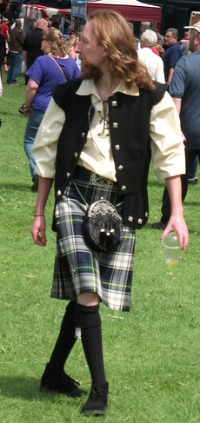 Woolen Waistcoat Photo Alex Cunningham

Although this particular waistcoat is usually seen as casual wear, some people choose to get married in their kilts wearing these waistcoats, rather than the formal Highland Dress.
Such a kilt outfit clearly appeals to those who don't want perhaps such a formal wedding, yet shows the bridegroom off in a stylish but casual manner.
The kilt is such a versatile garment, which can be accessorised in so many different ways, but if you are looking for a casual yet stylish look, then this waistcoat is an excellent choice.
And as with all quality kilt accessories, a good waistcoat will last you a lifetime when properly looked after.
Return from Chieftain Waistcoat to Kilt Accessories Page

Return from Chieftain Waistcoat to Your Kilt Home Page